Typically, privacy and security come to mind when thinking about installing a fence on your property. This is definitely a great reason to install a fence, whether it be your home or business, But curb appeal should not be overlooked. 
Visual Impact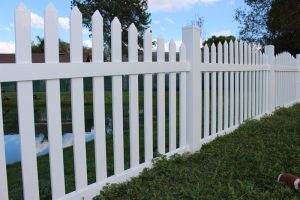 First impressions say it all. It is the first thing guests and passerby see. Whether it is installed in the back of your property, framing the perimeter of your yard or the classic picket style fence in the front yard, it adds a boost to the curb appeal. A professionally installed fence adds a beautiful design element to the overall aesthetics of your home or business. 
Available in several materials such as wood, vinyl, chain link, and aluminum. As well as an array of colors and styles to complement your home. Fences are used as a powerful visual tool in real estate, sure to increase the value of your property. 
Financial Impact 
A professionally installed fence is a worthwhile investment for any home or business. According to a Century 21 article, "The Top 10: Tips to Add Value to Your Home", Number six is, "Build a fence: If you're trying to sell a house, the appearance of a fence adds value to the home overall. Buyers with children or pets will appreciate the privacy and security of an enclosed backyard."
Potential buyers will appreciate the functionality of a fence, privacy security, and keeping pets and children safe. While you will grateful  for the return on investment.
Fence Installation
For great curb appeal and financial impact, you need a quality installation done by professionals. When you choose a custom product from Fence Central, you sure to receive the highest quality fence installed by trained professionals. 
We custom build all of our wood fences on-site rather than using pre-built panels to ensure the strongest, longest lasting wood fence possible. Our craftsmanship is 100% guaranteed. Our vinyl fences are U.V. protected and backed by a lifetime manufacturer's warranty that covers cracking, peeling, and flaking.