Your backyard is a sanctuary, somewhere you go to kick back, relax, and enjoy. Many homeowners are choosing the traditional wood or vinyl fence, but you may be surprised how many families are taking advantage of all the benefits aluminum fences has to offer.
Aluminum Fences Offer Many Benefits
Cost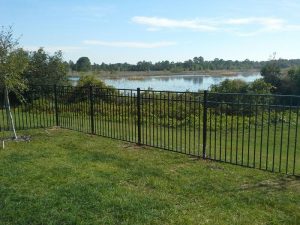 Aluminum fencing is a great investment, especially for the cost. It is very durable, needs very little maintenance, and looks great for decades. Unlike many metals and iron, it won't corrode and wear away.
Security
Aluminum fences can't be cut and can withstand quite a bit of blunt force without being compromised. Discouraging potential criminal or vandal, they will find it difficult to climb over. It also keeps people or animals from wandering into your yard.
Aesthetics
One of the biggest advantages of aluminum fencing is its versatility. The design, color, and aesthetics can enhance any landscape and increase the value and curb appeal of your home. Drawing attention to the beautiful features of your yard.
Environmentally Friendly
Aluminum fencing doesn't emit any harmful chemicals and is highly recyclable. Reducing your carbon footprint.
Application
Wood and vinyl fencing can block a beautiful view, but aluminum allows you to still enjoy the environment. You won't have to worry about the children or pets wandering out of the yard. It is also a great way to enclose a swimming pool.
Minimal Maintenance
The best fence is one that does not need much maintenance. Aluminum fencing doesn't have to be stained or painted, just the occasional cleaning. It's definitely one of the easiest fences to maintain.
If you're still on the fence about what type of material to use to enclose your yard, aluminum, chain link, wood, vinyl or PVC, contact the professionals at Fence Central. We can help you choose the right fencing for your yard at a great price.