When it comes to fences, there are many choices. From the type of material you want use, wood, vinyl, aluminum, or chain link, to the style and color. You want to make sure you get the most bang for the buck! Don't forget to check out last week's blog about what you need to know before you have a fence installed on your property and here are a few more.  A fence is a big investment, you want to make sure it looks great, adds value to your home and last for decades.
What Type of Material Do You Want?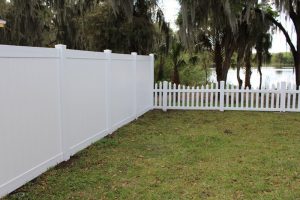 Ornamental Aluminum: Nothing really compares to the elegance and style of aluminum fence. Known for their durability, since they don't warp or rot, which makes them a great investment.
Vinyl: Not only do vinyl fences look great and come in several styles including privacy, semi-privacy, lattice accent, stake accent, ranch rail, and picket. Vinyl fences  are U.V. protected and backed by a lifetime manufacturer's warranty that covers cracking, peeling, and flaking. They are also manufactured right here in the U.S.A with the highest quality standards.
Wood: Great curb appeal and cost effectiveness is what makes wood fences so popular. They can last a very long time with maintenance. With styles such as Stockade, Board-on-Board, Shadowbox, Ranch Rail, and Picket, there is definitely one that will look great on your property. Our high standards at Fence Central is what sets us apart from other companies, to ensure the strongest, longest lasting wood fence possible.
Do You Know Your Neighborhoods, City or Towns Regulations or Codes?
Some communities and neighborhoods have requirements that need to be met, height, colors, materials, styles, and how far from the property line or sidewalk the fence needs to be. 
Do You Need to Talk to Your Neighbor About Your New Fence?
While you don't have to talk to your neighbor about installing a new fence, it can be a good idea. You never know, they may just split the cost with you. 
Who Will You Have Install The Fence?
The easiest way to have your wood fence installed is to have it professionally installed. The team at Fence Central has a wide choice of quality wood fencing at an affordable price.
You can buy a fence just about anywhere nowadays, but quality materials and installation by a licensed contractor makes all the difference. At Fence Central we pledge to deliver a superior fence designed to meet your specific needs. We stand behind this pledge with a one year, 100% craftsmanship guarantee; and our material partners also provide an extensive warranty on most products.