If you are thinking about having a new fence installed on your residential or commercial property, you want the highest quality at an affordable price. That's why so many people are turning to Fence Central.
Whether it's for security, safety, protecting a pool, help contain pets and children, or to add curb appeal, we can help answer all your questions and take the time to ensure you get the fence you want.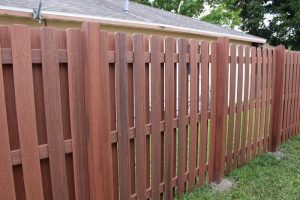 Are there any restriction with your new fence?
There are a few factors, a permit may be required according to your zoning ordinances. There may be restrictions for the design, material, or height. If you live in a subdivision or where a homeowners association exists, there may be deed restrictions or rules, that may prohibit certain materials.
It is also a good idea to know if there are any buried utility lines before any holes are dug. The professional fence installers at Fence Central can help you with all this.
What height do you want the fence?
There are a few factors that go into deciding the height of your new fence. What will it be used for, security fences tend to be anywhere from 5 to 7 feet tall. A large dog, usually needs a fence 6 feet high. While containing a small dog, about 4 feet tall.
What is the lifespan of a new fence?
That depends on the material, durability, and preventative maintenance performed. Aluminum and vinyl fences can last for several decades with little to no maintenance. Wood fences tend to need a little more maintenance to prevent damage from weather and insects.
What is the installation process?
How long will take to install your new fence depends on the material and the length of the fence. Quality installation can also play a part in how long it will last.
When you hire the professionals at Fence Central you know your fence is installed right. All the hard labor is done for you, and it is more affordable than you think!