Your Winter Haven home is your prized possession, the yard plays a big role. It is the first and last thing guest see when they visit.
Add to the curb appeal with an ornamental aluminum fence.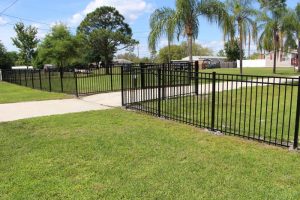 With a variety of great colors and styles to choose from, there is definitely one that will enhance the aesthetics of your home.
Aluminum fences have the unique structure that enables them to flex more than traditional fences. This is really helpful for properties with slopes and irregular shapes.
They are also known for needing minimal maintenance and being very durable. In fact, they never have to be cleaned, stained, or painted.
Aluminum fences add design and function
Securing your property while being able to enjoy the view. A must have if you own a swimming pool. The open design is sturdy enough to keep children and pets outside the enclosed area, while still taking advantage of the calming effect of the water.
Aluminum fences are also a great choice for enclosing a driveway. Tough enough to endure years of wear and tear, while adding a regal look to your home. The addition of a gate is a great way to add security.
The open design allows you to see before entering or driving onto the property. Great for families with children and pets.
Aluminum fences are a beautiful way to define boundary lines around your property. This type of fence is especially appreciative  if your home backs up to a lake or a nature preserve. They are also perfect for protecting gardens, while still enjoying all your hard work.
They are also a great option for businesses and commercial properties that want to steer guests and visitors from walking into certain areas without being intrusive.
The classic style of aluminum fences never goes out of style, which is why they are such a popular choice for so many homes and businesses.
If you are contemplating a fence for your property, contact Fence Central. We are happy to help you decide what type of fence will fit your needs.