For many years, both wood and aluminum fencing materials were the most popular among residential home and business owners in Polk county. While they have many benefits and are reasonably priced, vinyl has quickly taken over the number one spot.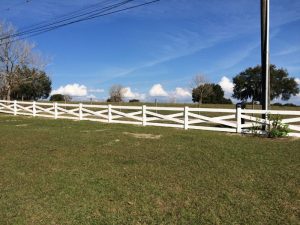 Why Makes Vinyl Fencing So Popular?
Toughness 
When it comes to our environment, it can be pretty hostile for anything outside. Vinyl can stand up to just about anything Mother Nature has to offer. Making it a champion in the toughness category. Whether it's our intense heat, hurricane strength winds, insects, termites, fungus and decay are things you won't have to worry about. 
Maintenance 
Most of us spend enough time working outside in the yard, especially in this heat. Nobody wants to spend even more time taking care of their fence. That is what's so great about vinyl fencing, it may need an occasional hosing down to remove dirt, if  one of our thunderstorms doesn't do it for you. This means you won't have to apply a chemical treatment to protect it or stain to maintain its color, both of which can get expensive over the years. Not to mention the repairs that other fencing materials need. With vinyl, once it is installed, you don't need to think about it. 
Cost 
Over the long term vinyl is more cost effective. It last longer than other fencing materials and won't need costly maintenance or repairs. Vinyl also adds significant value to your property. 
Flexibility 
Vinyl isn't one size fits all. You can have your vinyl fence expresses your creativity with several designs and colors to choose from. Styles including privacy, semi-privacy, lattice accent, stake accent, ranch rail, and picket
Why Choose Fence Central
At Fence Central, we are proud to offer vinyl fences that come with a manufacturer's lifetime warranty that protects against chipping, cracking, and flaking. Our fences are all made in the U.S.A. with high-quality materials, so you can be confident that your vinyl fence will look amazing for years to come.