Many Central Florida Home and business owners are choosing aluminum fencing for their properties. And why not, aluminum is one of the most durable fencing materials, and they last decades with very little maintenance.
Why is Aluminum Such a Popular Choice for Fencing?
Aluminum is immune to rust and resistant to corrosion, which is perfect for our humid climate. Strong and durable, while still being lightweight and easy to install, making it an affordable material.
Easy to Maintain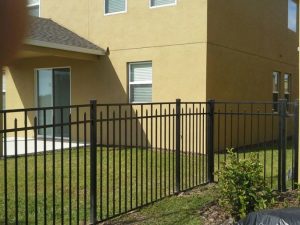 Since aluminum doesn't corrode or rust, there is very little maintenance. Just the occasional washing to remove the dust and grime that has accumulated. You don't have to worry about insect infestation, damage from moisture or rotting.
Repairs are Easy
While damage to aluminum fencing is rare, if an accident happens, in most cases they are easy to repair. Typically,  it just takes replacing the section that was damaged, not the entire fence.
Cost Effective
The initial cost of Aluminum fence is typically less that other traditional fencing materials, the overall lifetime cost is also low.
Versatility
Aluminum is perfect for surrounding a pool, backyard, or patio, without obstructing the view, but offering some privacy. Pets and children won't be able to wander off. It also has the ability to curve with the landscape, which is perfect if your property has a slope.
Environmentally Friendly
Many aluminum fences are made from recycled materials, reducing the impact on the environment. In turn, if you ever decide to replace your aluminum fence, it can be recycled.
Add Value to Your Property
The beauty of an aluminum fence will add curb appeal, style and value to any home or business. In fact, Century 21, the leading National Realtor, lists the addition of a fence is one of the top 10 a ways a homeowner can add value to their property.
Not All Fencing Companies Are Created Equal
At Fence Central, we pledge to deliver a superior fence designed to meet your specific needs. We stand behind this pledge with a one year, 100% craftsmanship guarantee; and our material partners also provide an extensive warranty on most products.
If you're considering adding a fence to your property, contact Fence Central for more information.