Now that your taxes are finished for the year (hopefully) and you're receiving a reasonably large refund (hopefully), it's time to decide what to do next! 
It's a great time to do some home improvements. Spring is the perfect time to construct or repair the fence around your home. If your fence is older and needs repair, doing so before hurricane seasons strong winds and rain hits, which will help prolong its life. If you want to build a new fence, it's great to get it finished before summer family fun and barbecue season begins.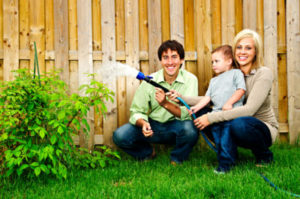 A fence is a smart home improvement because it not only adds visual appeal, safety and security to your home, it also adds resale value when you're ready to sell it.
Shorter fences add a ton of charm to your property without obstructing the view.
If you want to keep children and pets from wandering off,  vinyl and wood add privacy and security for the perfect backyard oasis.
Advantages Of A New Fence
Keep Your Family Protected 
You can't be too safe these days. Fencing in your backyard will give you peace of mind your kids can safely play without the thought of someone wandering in or them wandering out. 
Keep Your Pets Safe 
A fence will also keep pets safely contained, which means you won't have to walk them as often and they can play and exercise while you're not at home. 
Increase Your Property Value 
Fences are in high demand. Not only will a professionally installed fence increase the value of your home and add curb appeal, it will make it more attractive to potential buyers. 
Increase Your Privacy 
Nobody wants their neighbors watch them as they relax in the backyard or even looking into their windows. A backyard fence creates the perfect backyard oasis everyone is seeking. 
Added Security 
A fence acts as a deterrent to potential criminal. Those looking to break in want an easy target. A fence makes it much more difficult to gain access to your home and family.
No Tax Refund This Year?
No problem, Fence Central offers free quotes. Our testimonials speak for themselves as to the quality and value of the service we provide.