When it comes to installing a fence on your property, you want to make sure you are getting the best price and that it is done right. You may think a big chain store has great products at the lowest price, but that isn't the case. 
As a locally owned and operated fence company, Fence Central pledges to exceed your expectations. We use only the highest quality materials and dedicated trained installers with a 100% satisfaction guarantee.
Get Treated Like a Neighbor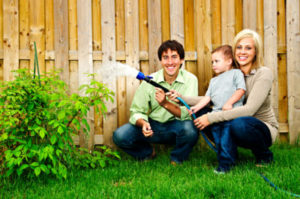 Have you ever called a service and realized the person you are talking to is either states away or even in another country all together! What happens if you have a question or a problem, will you have to wait on hold only to hear they can't find your information.
One of the biggest advantages of partnering with Fence Central, is that we treat you like the neighbor you are! We provide high quality workmanship, and outstanding customer service. We care about service and products, our staff is always friendly, knowledgeable and here to answer any questions.
Shopping for the Lowest Price 
Price typically plays a factor, but when you call or go by a big box store,  they can quote you a price, but they don't know anything about your situation. What type of soil you have, the terrain, and which fence material works for your unique needs. When you shop with Fence Central we ensure you get exactly what you want, meeting your needs and your budget. 
Quality You Deserve 
Those low cost fences at big box stores are typically made from the lowest quality materials. At Fence Central we never use pre-build panels and each wood fence is hand crafted on-site by picket, for the highest quality and a beautiful fence that will last decades.
Fence Central is a local fence company serving all of Polk County providing installation of vinyl, wood, aluminum, and chain link fence. We encourage you to stop by our Winter Haven location to meet the team, see the various styles of fence we have to offer, and get a free quote.