For most homeowners in Polk county, pets and children are the top reason to have a fence installed. Aluminum fencing is quickly gaining in popularity. They provide all the aesthetics, security and durability as other fencing materials, but they are typically less expensive. 
Benefits of an Aluminum Fence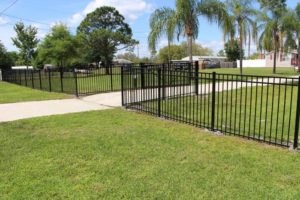 Durability 
Aluminum is one of the most durable materials in the fencing industry. They need little to no maintenance, they never need to be painted, stained or even cleaned. They are very durable, it isn't unusual for aluminum fences to last well over 20 years. Which means you don't have to think about replacing them. 
Security 
Aluminum fence come in a variety of heights and gates with locking mechanism. They can keep intruders out, keep children and pets safe, while still enjoying the view. They are also a great option for surrounding a pool. 
Cost Effective 
Aluminum fences have a high end appearance, but are great for a tight budget. Insurance companies may also offer a lower rate with an addition of a fence around a trampoline, hot tub, or pool. 
Greater Variety 
Aluminum fences come in a variety of styles and colors to add to the curb appeal of your home. They work well for landscapes with a slope. Aluminum fences can be as simple or ornate as you like, their clean lines and stately appearance lend an air of sophistication to homes while still allowing visibility.
Is an Aluminum Fence Right for Your Property?
Still wondering if an aluminum fence is right for yard? Contact Fence Central, our experts can weigh the pros and cons with you and help you to find the perfect fence to fit your property.
We are known for our outstanding service and affordable prices. We handle all aspects of installing your fence, from design to follow-up service.