Thinking of having a fence installed around your Polk County home or business? They create a private backyard oasis, keep children and pets safe, add security, and property value to your home. As well as a decorative design element. 
There are several types of fences to choose from
Vinyl Fencing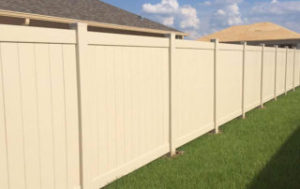 Vinyl fences are beautiful, sturdy, and low-maintenance. They don't rot, splinter, blister, or warp. Since vinyl fences are manufactured, they come in a wide variety of styles and colors and many people like the look of the perfect white picket fence.  
Vinyl is very easy to take care, they don't need painting or refinishing. The color is built right into the material, they won't fade or warp, you also won't have to worry about bugs infestation. They only need a wash every now and again to remove dirt and grime.
Wood Fencing
Wood fences can also be crafted in a variety of styles. They can be painted or stained to complement any home. When properly maintained, wood fences can last for many years and may cost significantly less than vinyl fences.
Wood  fencing is weather resistant, last for decades, and they have a natural look or can be easily stained or painted to match your home. They also absorb sound, provide security, as well as privacy. For those who are environmentally conscious, wood is a natural and sustainable resource.
Aluminum Fencing
Aluminum is also low-maintenance and economical. Perfect for preserving a view.  If your property overlooks a body of water, beautiful tree-line, or an open field, you may not want a wooden fence that will hide those lovely sights from view. 
They provide a barrier for pets and children, and enclose a pool for safety. Their clean lines and stately appearance lend an air of sophistication to homes while still allowing visibility.
Fence Central has installed hundreds of miles of fences throughout Polk County. While it may seem easy, properly installing a fence takes skill and experience. If you are thinking about the addition of a new fence on your property or updating an older on, Fence Central is happy to help you through the process to ensure you get a quality fence at the best price possible.