Are you shopping around for a privacy fence? In many of today's residential neighborhoods, privacy is a very sought after commodity. Everyone wants their home to be their very own private retreat, somewhere they can escape the noise of everyday life.
Maybe you just want to sit on your back porch in your pajamas drinking your morning cup of coffee or taking a dip in the pool without the neighbors peeking in on you. Or you want to keep the children safe and pet from wandering off.
There Are Many Options When It Comes To Privacy Fences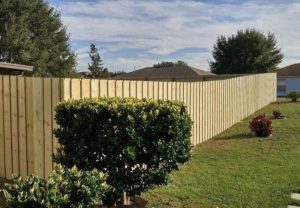 Wood Privacy Fences
For many years now, wood has been a popular choice for privacy fencing, and for good reason. They are relatively inexpensive, come in a variety of styles and decorative features to choose from. They are weather resistant, last for decades, and they have a natural look or can be easily stained or painted.
Wood also absorbs sound, provides security, as well as privacy. For those who are environmentally conscious, wood is a natural and sustainable resource.
Vinyl Privacy Fences
Vinyl panels are the newest trend in privacy fencing. They have the advantage of needing very little maintenance. As well as being, warp and crack resistant. They don't need to be painted to stained, no wonder why they are gaining in popularity. Though they tend to cost a little more than wood, they add significant value to any home.
Vinyl provides the same security and privacy as wood, as well as absorbing sound. Allowing you to enjoy your backyard.
Don't Forget
When choosing a fence for your property, take into consider the maintenance involved, if you don't want to put in the extra time, maybe vinyl is a better choice.
Also, if you have a Home Owners Association, it is best to check with them first to ensure you stay within the guidelines.
Putting up a fence yourself is hard work and time consuming, consider hiring the professionals at Fence Central. Our craftsmanship is 100% guaranteed and we use only premium-quality materials and highly trained installers.