One of the most popular fence materials for both home and business owners here in Polk County is vinyl. If you've been thinking about having a fence installed, you probably have some questions. 
Here are a few of the most frequently asked questions about vinyl fences
Vinyl fences are so popular because they look great, affordable, extremely durable, requires little maintenance, and easy to clean. They also come in a variety of styles and color options. 
Do I need to be concerned about weathering or discoloration of my vinyl fence?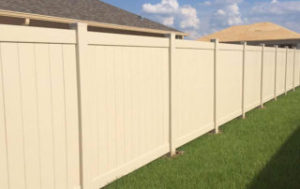 One of the best things about vinyl fencings, is that it doesn't succumb to Florida's harsh weather. Which means it won't fade, crack, discolor, or mold. It can even stand up to high winds and rain. The vinyl fences at Fence Central are U.V. protected and backed by a lifetime manufacturer's warranty that covers cracking, peeling, and flaking. When you choose vinyl, you can feel confident that you will never have to replace your fence.
What type of maintenance will a vinyl fence require?
If you don't want to spend your weekends servicing or repairing a fence, then vinyl is the way to go. If the fence gets dirty from debris or dirt, they just need to be hosed down, that's it!
Are there any hidden fees?
At Fence Central, our highly trained professional team pledges to provide you with both high-quality workmanship and outstanding customer service. Your contract will be delivered exactly as written with no hidden charges or unwelcome surprises.   Staying true to this philosophy is precisely why Fence Central customers give us a 4.9 out of 5-star satisfaction rating.
Want to know more about vinyl fencing?
If you've been thinking about having a vinyl fence installed on your property, contact Fence Central for a quote. Our friendly and knowledgeable office staff is available to assist you.
At Fence Central we specialize in custom fence installation, exceptional service and craftsmanship. We use only the highest quality materials and professionally trained installers, we pledge to deliver a superior fence designed to meet your specific needs.