Fences offer many benefits and value to your home. But before having a fence installed on your Polk County or Clermont property, here are a few things you should consider. 
Know What Type Of Fence You Want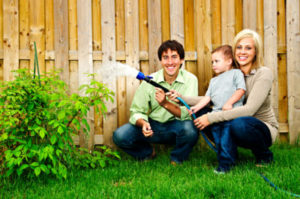 What do you want your fence to accomplish? Do you want to keep the dog or children secured in the yard? Add some privacy to your property? Surround  a swimming pool, while keeping the view? Block some noise? 
Typically, it is a combination of things. For instance, you want to add some privacy and keep the pets inside the yard, while adding value to your home. 
Choose The Material

 
There are several types of fencing materials on the market. The most popular include, wood, vinyl, and aluminum, each with their own set of benefits. 
Wood Fences
Wood fences are a very popular choice for privacy fencing, and for good reason. They are relatively inexpensive, come in a variety of styles and decorative features to choose from. They are weather resistant, last for decades, and they have a natural look or can be easily stained or painted. Wood also absorbs sound, provides security, as well as privacy. For those who are environmentally conscious, wood is a natural and sustainable resource.
Vinyl Fences
Vinyl fences also offer privacy. They have the advantage of needing very little maintenance. As well as being, warp and crack resistant. They don't need to be painted or stained, no wonder which is one reason they are so popular in communities with an HOA. Though they tend to cost a little more than wood, they add significant value to any home. Vinyl provides the same security and privacy as wood, as well as absorbing sound. Allowing you to enjoy your backyard.
Aluminum Fences
Aluminum fencing is its versatility. The design, color, and aesthetics can enhance and add value to any home. They are cost effective way to add curb appeal. Drawing attention to the beautiful features of your yard.  They also won't block a beautiful view, allowing you to enjoy the environment. You won't have to worry about the children or pets wandering out of the yard. It is also a great way to enclose a swimming pool.
Choosing the right material and company to install your new fence can be overwhelming. A good place to start is to contact Fence Central. Don't forget to check back with us next week for more information about installing a new fence on your property.