A quality fence is attractive and functional to any commercial or residential property. Having some more living space, peace of mind your family is safe, extra privacy, and increased aesthetics. Whether it is wood, vinyl, chain link, or aluminum, a fence is a smart choice.
If you are thinking about installing a fence yourself, be aware it is very time consuming and costly. Instead of risking your sanity, well being, and wallet, there are many reasons why you should hire the professionals at Fence Central.
Advice
Once you've decided your property needs a fence, talk to the team at Fence Central. They will gladly help with ideas on materials, height, location, and more. Whether you have a specific material in mind or not, they will be able to help.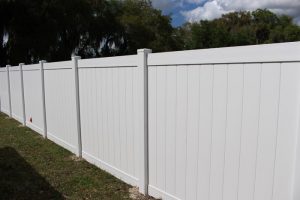 Tools for the job
Having the right equipment makes a huge difference. Have you ever dug a large hole in our sandy soil? If you have, you know you will need a commercial grade post digger for the job. If you are thinking about purchasing the equipment, they aren't cheap. It can end up costing significantly more when you do it yourself.
How much time will the fencing project take?
Do you know how much time installing a fence yourself will take? Well, it probably depends on the length of the fence and other things. You can be sure you will be working up quite a sweat. Even if you spread the job out over several weekends, it can get very frustrating. No need to worry when you hire Fence Central, we will have it done in no time, while you stay nice and cool inside.
Legal knowledge and zoning
Here in Florida they take zoning laws and HOA guidelines very seriously. You will need knowledge of zoning laws, building permits, and other legal requirements. By hiring a professional, you won't have to worry about any of it. You will know that it is done right!
On a budget?
Usually, home and business owners attempt to DIY fence installation themselves because they are on a budget. When you choose Fence Central, our team will walk you through the entire process, keeping your budget in mind. There won't be any additional costs.
Experience
Not only will a professional be able to save you money on materials, they have the experience to properly install the fence. No matter the location, weather, terrain, or other factors, your fence will look amazing when it is finished.