Privacy for you and your family is critical to your overall well-being, especially in larger communities, when homes are close to each other.  Installing a wood or vinyl fence is the best way to increase your privacy and security, while establishing boundary lines.
Wood Fences
For many years now, wood has been a popular choice for privacy fencing, and for good reason. They are relatively inexpensive, come in a variety of styles and decorative features to choose from. They are weather resistant, last for decades, and they have a natural look or can be easily stained or painted.
Wood also absorbs sound, provides security, as well as privacy. For those who are environmentally conscious, wood is a natural and sustainable resource.
There are a variety of styles to accentuate your property such as Stockade, Board-on-Board, Shadowbox, Ranch Rail, and Picket. To ensure your fence is strong and last a long time, we custom build all of our wood fences on-site, instead of using pre-built panels.
Vinyl Fences 
Vinyl is made specifically for durability and longevity, from a premium quality polyvinyl chloride or PVC. The vinyl products at Fence Central are UV resistant, they won't splinter, split, warp, or rot. They also have superior impact strength, need very little maintenance, and offer excellent security.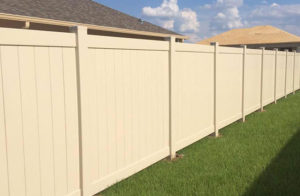 Vinyl fencing is non-toxic. So, you won't have to worry about any harmful chemicals, it is safe for children and pets.  If you ever decide to have it replaced, it is recyclable.
Vinyl fences have become very popular in recent years, and for good reasons. In addition to being the favorite of community and homeowner's associations (HOAs), vinyl fences look clean and neat, they also come in a variety of colors and styles.
If you're considering a vinyl fence for your home, you're in good company. Many residents throughout Florida find vinyl fences are a very wise investment.
Though it may cost a little more than a wood fence, it is considered one of the most economical fences on the market. Since it needs almost no maintenance, can last for decades and still look great.
Fence Central has installed thousands of fence in the past 10 years, throughout Polk County.  Our pledge to our customers is to design and install a fence that exceeds all expectations. We use only the highest quality materials, highly trained installers, and guarantee a 100% satisfaction.