The beautiful cohesive look is what makes vinyl fencing so popular among HOAs. Vinyl fences are a good choice because of their longevity and low maintenance. Fence Central vinyl fences are covered by a manufacturer's lifetime warranty and protected against U.V. damage. If you decide to invest in a vinyl fence, you can be sure you'll never have to replace it. 
Navigating the waters of a Home Owners Association is not always easy. At Fence Central, we've helped many clients get through the HOA approval process by providing fence descriptions, site-plan drawings, specifications, and pictures to aid your communications with them. In our experiences, the more information you can provide to the HOA board about your plans for the fence, the better the likelihood that they will approve it.
Why Are Vinyl Fences So Popular?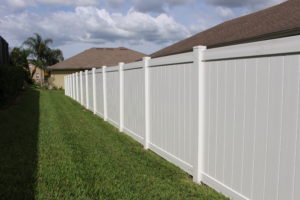 Vinyl Fences Are Strong and Long Lasting 
Since vinyl isn't affected by environmental conditions, such as moisture and rain, like other fencing materials, they have a longer lifespan. Vinyl is resistant to rusting, rotting, blistering, peeling and decomposing. You also won't have to worry about damage from insects or harsh weather, making them the perfect fence for Polk county homes and businesses.
Vinyl Fences Require Little Maintenance
If you don't like all the maintenance that typically goes with fences, then vinyl is they way to go. They don't need to be painted or refinished. Just spraying down with a hose if they get dirty, is enough to keep their appearance looking great for decades. 
Vinyl is Environmentally Friendly 
Vinyl non-toxic, which means you won't have to worry about any harmful chemicals leaching out into the environment. Great for those who are mindful of reducing their carbon footprint. 
Vinyl fences Are Easy On The Budget
Vinyl fences are surprisingly affordable. The real financial benefits can be seen in the long term investment. The minimum cost of maintenance and long life of vinyl, makes them a great investment. 
Vinyl Fences Look Amazing!
Vinyl comes in a variety of styles and designs, which means you won't be compromising on aesthetics. This will also add to the curb appeal of your home, boosting the value
Fence Central has installed thousands of fence in the past 10 years, throughout Polk County.  Our pledge to our customers is to design and install a fence that exceeds all expectations. We use only the highest quality materials, highly trained installers, and guarantee a 100% satisfaction
At Fence Central, our vinyl fences are all made in the USA! You can feel proud of that investment in our country's economy and future. Fence Central vinyl fences are also backed by a lifetime manufacturer's warranty, so you can feel confident that you'll never have to replace your fence.
So what does made in the USA matter when you're considering what type of vinyl fence to buy? Buying something that's made it the USA means that the product adheres to strict standards put in place by the Federal Trade Commission.