Investing in a fence for your Polk County home or business is a safe and effective way to boost your curb appeal. If you want to add privacy and security, great aesthetics with little maintenance, it's time to contact the team at Fence Central. 
Improve the Look of Your Home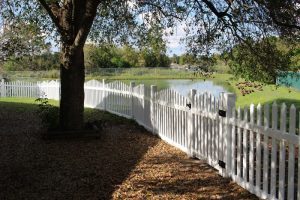 You take pride in your home and want it to look good. Replacing an older fence with a more modern and durable fence, will not only add aesthetics, it will also raise its value. 
Creating Privacy
Privacy nowadays can be priceless! Whether you are playing with the kids, gardening, or having fun in the pool, it is nice to know you won't have any onlookers. It's also a great selling feature, adding value to your property. Both wood and vinyl are great options for privacy.
Fencing for Security
Security has become more important than ever! It is also why most home and business owners invest in fences. Protecting your family, employees, and assets. Studies show fences are an effective deterrent, discouraging possible offenders.
Marking Boundary Lines
Whether you have a small plot of land or a few acres, defining the perimeter adds value to your property and gives you piece of mind. Which can help determine maintenance activities and avoid disputes with neighbors.
Safety Fences
One of the most popular reasons to install a fence is for safety. Ensuring the children and pets are safely contained. You don't want them wandering off, or anyone wondering into your yard. A fence allows everyone to play without Mom and Dad worrying.
Decorative Fences
The right quality fence can add tremendous curb appeal to your home or business. Increasing its value and making it a great investment.
One of the most important aspects of choosing the right materials and installing a fence is selecting an experienced fence contractor.
Contact Fence Central for your next fence project. With our top-notch resources, exceptional craftsmanship, and unrivaled service, you can feel confident knowing that you will have a long-lasting fence that is custom-designed.