Whether you plan on having a new fence installed or replacing an older fence that has seen better days, you may want to consider low maintenance vinyl. While there has been a steady increase in  the popularity of vinyl fencing, there are still some myths going around. 
If some of these myths have you "on the fence" about vinyl, here are the facts:
Myth: Vinyl Fencing Fades And Turns Yellow Over Time
Even in the intense heat of the sun here in Central Florida, vinyl fencing doesn't succumb to fading or turning yellow. The materials that make up this product is designed to hold its color and protect it from ultraviolet rays of the sun.
Myth: Vinyl Fencing Doesn't Hold Up To Florida's Weather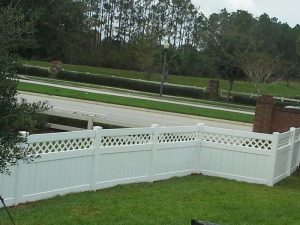 One of the biggest benefits of vinyl fencing is that they don't succumb to environmental elements. They can hold up to Central Florida's intense heat, wind, humidity, and torrential downpours. The vinyl fences at Fence Central are U.V. protected and backed by a lifetime manufacturer's warranty that covers cracking, peeling, and flaking. 
Vinyl fences are designed to withstand Florida's strong winds and the thunderstorms. A vinyl fence that is properly installed and supported, should easily withstand 100 mph winds. Other materials can become projectiles during strong winds, causing major damage and serious injury. 
Myth: Vinyl Fencing is Basically Maintenance Free
This myth in fact is true! Vinyl fences require very little, if any maintenance. It won't fall apart, peel, or crack. If it gets dirty, you just need to wash it off with a garden hose.
Myth: Vinyl Fencing is Expensive
Over the long term vinyl is more cost effective than other fencing materials. It last longer than other fencing materials and won't need costly maintenance or repairs. The fact is, the right quality fence can add tremendous curb appeal to your home or business. Increasing its value and making it a great investment.
One of the most important aspects of choosing the right materials and installing a fence is selecting an experienced fence contractor.
Contact Fence Central for your next fence project. With our top-notch resources, exceptional craftsmanship, and unrivaled service, you can feel confident knowing that you will have a long-lasting fence that is custom-designed