Vinyl fences are very popular here in Polk county for many reasons. One of which is because they are non-toxic. This means they are manufactured without the use of harmful chemicals. This is not only healthier for the environment, but also for children and pets. So, even though the fence bakes in the hot sun, you can rest assure everyone is safe in the back yard.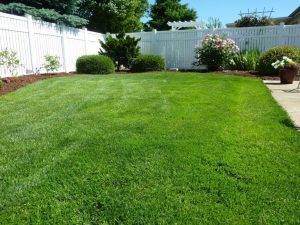 That's not the only reason vinyl fences are so popular
Easy to keep clean
You won't need harsh chemicals to clean a vinyl fence. It just takes a little soap and water to keep it clean and looking its best. You also won't have to worry about repainting or refinishing the fence. The built in coating will keep them looking like new. 
Protect your family
An unexpected splinter may not seem like much, but when you or your child gets one from a fence, it hurts! Vinyl is the safest options for everyone in the family.  You also won't have to worry about sharp metal pieces, nails or screws rusting, or anything else that could be dangerous. 
Privacy where it matters the most
Vinyl fences are perfect for creating a private backyard oasis, neighbors and those passing-by won't be able to see inside. This type of fence is typically 6 feet tall and have closed gaps to provide maximum privacy.
Vinyl fences are also great for securing an area such as a swimming pool, while still preserving the view. This style had wide gaps in the rails to maximize visibility. 
Vinyl fences come in a variety of styles and colors to compliment your home or business. At Fence Central, we are proud to offer vinyl fences that come with a manufacturer's lifetime warranty that protects against chipping, cracking, and flaking. Our fences are all made in the U.S.A. with high-quality materials, so you can be confident that your vinyl fence will look amazing for years to come.