Fences, whether wood, vinyl, aluminum, or chain link, creates an extension to your home or business. They add security from nosy neighbors and intruders, while providing safety for children and pets. 
Fences provide a number benefits and offer a high return on investment, both in terms of time and money. Estimating the cost of your new privacy fence can help you to know when the best time is to begin building.
Consider The Material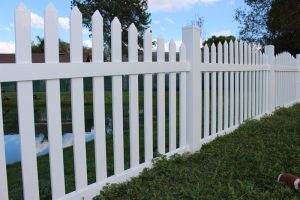 Typically privacy fences are six feet tall. Both wood and vinyl privacy fences come in a variety of styles, including stockade, board-on-board, and shadowbox. Wood privacy fences are best if you want something customizable with stain or paint. Vinyl privacy fences are best for those who prefer a fence that needs little or no maintenance. Vinyl fences have a higher upfront cost than wooden fences, but they also have a longer life.
Hight and Length of the Fence
Determine the length of the fence in linear feet. Walk your property line with a tape measure to get a sense for how many feet your fence will be. Along with the material, the length of your fence will determine the cost of your fence. If the fence is on a slope or must go around trees, it's good to note that as well and include that information when you request a quote.
Save Time and Money
Most homeowners don't have the equipment for mixing large batches of cement or digging holes for the posts. Trust me, using a shovel to dig a post hole just doesn't work! This means you would have to rent all the equipment, which is expensive and time consuming. Save the time and all the hassle by using a professional to install the fence. This way you know it is done right, will look amazing, and last for decades. The difference is in the details.
If you're ready to start your free quote, contact Fence Central in Polk County, Florida today. We'll provide you with an expert quote and help you weigh all of the options for your new fence.