Having a fence installed on your property, whether vinyl, wood, or aluminum, it can have a return on investment of 65%. Aluminum fencing has become very sophisticated and attractive. The benefits rival those of other types of fencing. 
Rethinking aluminum fencing
Aesthetic Appeal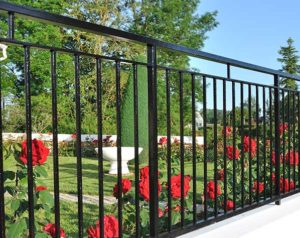 Aluminum is often compared to the classic look of wrought iron fencing, but without the high price tag!  Complementing any home or business with a variety of colors and styles. They are perfect for enclosing a swimming pool or if your home backs up to a lake, since they won't block the beautiful view.
Durability
As a lightweight material, aluminum can hold up to Florida's weather and elements. They aren't a match for sunlight, moisture, insects, or even termites. They also won't fade, rot, or rust. 
Low Maintenance
Unlike wrought iron that needs regular maintenance and painting to keep its beautiful look, aluminum just needs the occasional hosing down, if that.
Affordability
Since aluminum fencing is manufactured it is more affordable than other fencing materials. When you add in the costly upkeep, frequent repairs, and maintenance of wrought iron, aluminum is an affordable investment. 
Security and Safety
Aluminum fencing provides security and safety without obstructing the view. Not only confining children and pets, but also keeping unwanted visitors out. Because of the vertical bars they are very difficult to scale. The addition of pointed finials or spear topped pickets, provides an extra deterrent.
Installation
If you are considering having a fence installed on your property, you want it to last a long time. Choosing the right fence service makes all the difference!
At Fence Central, we offer the best materials in the industry, exceptional craftsmanship, and superior customer service. We encourage you to stop by our Winter Haven location and meet the Fence Central team, as well as browse our variety of fences in our outdoor display yard.