Thinking about having a new fence installed on your Polk county property? Whether it is for your home or business, vinyl offers many benefits. In fact, it has become the hottest trend in fence materials, and for a good reason. They offer many advantages.
A Vinyl Fence Adds Privacy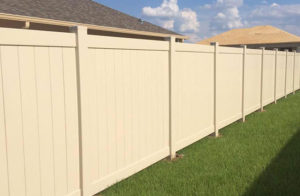 Privacy seems to be in short supply these days. It is a luxury with homes positioned so close to each other, even backing up to neighboring houses. The addition of a vinyl backyard fence will add privacy to your home and to your overall well being. 
A vinyl fence around your property restores your privacy. A beautiful solid barrier without any unsightly gaps. Which makes it a great option if you live in a subdivision or a community with an HOA.
A Vinyl Fence Adds Security 
Not only do vinyl fences provide security for pets and children, they also keep unwanted people out. From accidental trespassers to wild animals and the neighbors' pets. 
A Vinyl Fence Enhances the Aesthetics
Vinyl fences look great. They come in a variety of styles and colors to add to the home's aesthetics. It increases the functionality of your backyard and the value of your home. 
A Vinyl Fence Is Easy To Maintain 
Unlike other fencing materials, vinyl is easy to maintain, durable, and last for decades. They won't need painting or staining. You also won't have to worry about insect damage or rotting.
A Vinyl Fence Is Great If You Have a Pool 
Whether you have a backyard swimming pool or plan to install one, privacy is a must. It's also important to stay legally up to code and for insurance reasons. 
A vinyl fence is a the perfect way to make your backyard more enjoyable. A home improvement that has a high return on investment. You don't have to worry about the kids, pets, or prying eyes looking into your yard.
You've been thinking of having a vinyl fence installed on your property, but you don't want to break the bank.  Then contact Fence Central and see why so many people are turning to us for quality fences at an affordable price!