When it comes to building a new fence or replacing an older one, there are a few factors to take into consideration.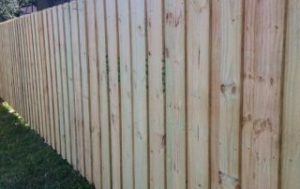 First, to ensure the fence last a very long time, you want to use use the fencing materials possible. 
Second, you want the best craftsmanship possible, which means hiring an experienced fence contractor. 
Third, you want the contractor who builds your fence to the specification you have laid out. 
Fourth, you want a beautiful new fence at the best price possible.
Making sure you get all four accomplished is not always easy. The lowest bid is not always the best deal. It tends to mean the cheapest materials and workmanship. Let's face it, anyone can swing a hammer, have a truck, and claim to be a contractor, but not everyone can build a fence that will make it through the next 25 years of storms and hurricanes. 
So, you want a fencing company who won't cut corners when it comes to craftsmanship, materials, or customer service. 
It is important to ask your fence contractor a few questions, such as:
What materials will you be using and why do you recommend them?
What procedures are included when replacing an existing fence?
What is the contractor's history for not going over the estimated amount?
What is the company's history of finishing within the given time frame?
What type of warranty is provided for the materials and work they provide?
Will there be any added fees not included in the original estimate, permits, removal, tearout?
What happens with the old fence materials?
It is also important to check out some reviews from previous customers, determine how well the company communicates with you, and their website is informative and easy use.
Fence Central would love the opportunity to talk to you about your fencing needs and provide you with a free estimate. We take pride in using the best materials, having highly experienced teams, and outstanding customer service!