A vital part of any home or business is a quality fence. But in order to do its job, keep your family safe and everyone secured inside the yard, it has to be in good shape. What if your fence is older or damaged, is it worth repairing or does it need to be replaced? 
Here are a few things about the process you should know 
Time to Repair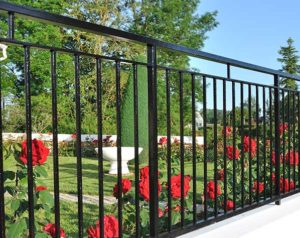 Depending on how much of the fence is damaged, repairing is a good option. If just a small portion of the fence was knocked over, there is no need to replace the entire thing. For instance, if termites affected just one panel of a wood fence, a replacement piece can be installed. 
The same is true for aluminum fence, having a post that was bent or dented replaced in a timely manor can prevent further damage. Some vinyl fences can succumb to surface cracks, these portions can also be replaced. 
Time to Replace
Experts recommend if your fence has more than 20 to 30% damage, it is best to replace it. Or if your fence has severe damage. At this point, the repair cost will be significant and a replacement would be easier and maybe even less expensive. Also, if the posts are damaged, the stability of the fence comes into place and will need to be replaced.
Another consideration, replacing part of an older fence will have a miss matched appearance, which may bring your property value down. 
If you aren't sure if repairing is the best option for your fence, contact the professionals at Fence Central for an honest assessment.
Choosing the right service is not always easy. Which is why Fence Central has made the process easy, from selecting the right material for your project, installation, to ensuring you completely satisfied with the final product.
Fence Central is a leader in the industry, we use only premium quality materials and highly trained installers. Whether you are looking for a custom wood fence to add some privacy to your backyard, vinyl to create your own outdoor oasis, or aluminum to preserve a beautiful view, Fence Central provides the best fences at the best price!