There are some really great fencing materials available in Central Florida, but don't overlook the benefits of a custom wood fence. They offer the timeless natural beauty that complements any home or business. The variety of designs and styles, such as Board-on-Board, Shadowbox, Ranch Rail, and Picket, ensures you can achieve the look you want. The key to a long life span and attractive look is the quality materials and installation.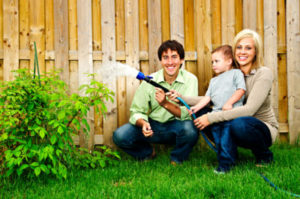 Durability 
Instead of using pre-built panels, the experienced crew at Fence Central build wood fences on-site. Our superior standards and high quality materials not only set us apart from other companies, it also ensures you have a strong, long lasting fence. This also means it won't quickly succumb to the deteriorating effects of weather and nature. 
Cost Effectiveness 
Wood fencing is also an affordable option, since it is less expensive than other materials. Allowing you more flexibility when it comes to improving other areas of your property. 
Improved Curb Appeal
not only will the beauty of a wood fence significantly improve your home's curb appeal, it will also increase the value. Today's home buyers are looking for privacy and security.
"There are plenty of practical uses for a fence: to gain privacy, safely corral kids and pets, block wind and noise, and prevent unsupervised dips in a swimming pool. But the right fence also makes a strong aesthetic statement, improving a home's curb appeal." This Old House
Creating a Custom Fence to Fit Your Needs
Creating a very private backyard oasis with a six foot fence, is easy with a custom wood fence. Incorporate gates, stain them to complement the environment.  Specifically built to follow a slope or hill on your property or mount flower boxes for a festive design, wood fences can be customized to fit just about any situation.
Whether you want to replace an older fence or a brand new one, we encourage you to stop by Fence Central's Winter Haven location to meet the team and see the various styles of fence we have to offer in our outdoor display yard.
As a leading fence company in Florida, we build durable fences at an affordable price! Contact Fence Central for more information and a free quote!