Vinyl is one of the best materials for a quality fence in Florida.  It can hold up to our harsh weather conditions and you won't have to worry peeling, rusting, rotting, or every repainting or replacing the fence.
The purpose, how much privacy you want, and personal preference,  as well as architectural details, should determine the style of the fence.
Vinyl Picket Fences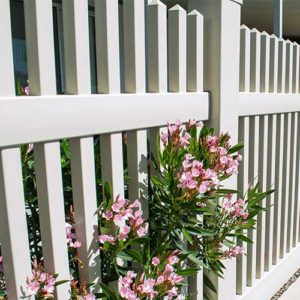 Picket fences are classic, their iconic look from households 50 years ago is definitely making a comeback. They have a warm and inviting appeal that is aesthetically pleasing.
Custom picket fences come in a variety of lengths and heights. Perfect for the front yard, a garden, or surrounding property with acreage. Gates can also be added.
Vinyl Privacy Fences
The solid vinyl paneling gives you the highest level of privacy. It doesn't have any gaps, so prying eyes won't be able to see inside. Perfect for keeping children and pets from wondering off. They also offer a level of security you don't get with other fences.
Vinyl Ranch Rail Fences
This three rail vinyl fence is stylized for that traditional ranch feel. Designed to contain animals, horses and cattle, it also indicates where the property lines are located.
Vinyl Lattice and Stake Accent Fences
Lattice and Stake Accent are a decorative way to enclose a pool , garden or patio area. The lattice adds some privacy, while allowing you to see beyond the fence. They come in a variety of heights to suit all your needs.
Vinyl Fences Are Easy On The Budget
Vinyl fences are surprisingly affordable, especially when you take into account the long term. There isn't any maintenance, painting, refinishing, or untimely replacements