Shopping for a wood, vinyl, or aluminum fence means choosing from a variety of colors, heights, and styles. If you're looking for a quality fence that stands out from the crowd, a project you can put your creative stamp on, them a custom fence is definitely for you! 
With some help from the experienced team at Fence Central, your custom creation will be stunning. It's easy, just let us know what your vision looks like and we will get to work.
Image is Everything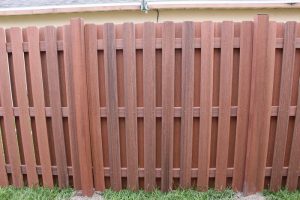 The typical fence colors may not be what you are looking for, a multi-material fence with different tones may fit into your color scheme. Dark wood pickets with lighter tan rails, or some other combination can bring your property to life and add significant curb appeal. 
If the vision of your new fence goes beyond color, it can be built with varying heights, different widths, and picket sizes. It can take privacy fence to a whole new level. For instance, creating a divider between two patios, or to hide an eye soar, utility box or garbage cans. Or building the perfect outdoor home for the family pet. 
A Strong and Durable Fence
Designing and building a custom fence takes experience, the right materials and equipment, time, and patience. What seems like a simple DIY project can turn into big headaches when you consider HOA, utility lines, property lines, installing gates, and having to work around ground slopes and obstacles.
More Affordable Than You Think
Many people think a custom fence may be a little tight on the budget, but don't worry, it isn't. Here at Fence Central we offer financing with 0% interest!
At Fence Central we stand behind our superior installation with a one year, 100% craftsmanship guarantee; and our material partners also provide an extensive warranty on most products.