Every property is different, choosing the right fencing material isn't always easy. Especially with so many to choose from, wood, vinyl, aluminum, and chain link. Does your new fence need to have specific features? Such as, security, privacy, surround a pool, keep the kids and pets safe, or keep wild animals out.
Find the Right Fence Material for Your Home or Business
Effortless Maintenance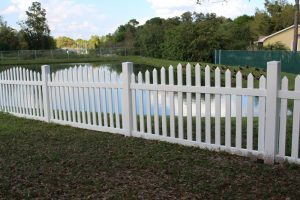 If you have a busy life or just don't want to do much maintenance, aluminum may be the best option. Enjoy a beautiful, clean look that doesn't have to be painted or stained. Great for enclosing a pool without obstructing the view.
Style and a Long Lifespan
Wood fences come in a variety of colors and styles, Stockade, Board-on-Board, Shadowbox, Ranch Rail, and Picket. Custom built wood fences can enhance and add value to any property. Their strength and high durability ensure a long lifespan.
Budget Friendly
If you are looking for a fence that is easy on the wallet, PVC or vinyl is a great choice. They come in a wide variety of colors and styles to choose from, lattice accent, stake accent, ranch rail, and picket. Fence Central's vinyl fence are U.V. protected and backed by a lifetime manufacturer's warranty that covers cracking, peeling, and flaking. They are also, manufactured right here in the U.S.A with the highest quality standards.
If Your Looking to Add Beauty and Strength
Aluminum fencing makes a statement, setting your home or business apart from the rest. Increasing the property with beauty and strength.
Cost Effective Fence Solution
Chain link fence is a durable and a budget friendly way to go, that does not require much maintenance. They come in a several colors and heights. Perfect for pets and children.
Installation
Which ever fencing material is right for you, ensure you're using only premium-quality materials and highly trained installers. The team at Fence Central pledges top-notch resources, exceptional craftsmanship, unrivaled service, and a one year, 100% craftsmanship guarantee.